Camp 2012
Creating Conscious Community through Choice
This year we are continuing last year's program format-- a reduced number of scheduled presenters, increased the amount of free time, and three days of Open Sessions (see Other Camp Events below). We believe this format gives campers more time to integrate the information they are receiving, and offers an opportunity to explore areas more closely aligned with their personal interests.
♥ ♥ ♥
Our 2012 Presenters
Shanya Luther (Torch) ♥ Identity, Discovery, and Transformation:
Expanding Our Understanding of Gender, Inside and Out
Our modern conversation about gender is complicated, confusing, intriguing and inspiring. From heteronormativity and cisgender, to trans and pan-gender, the vocabulary alone is enough to make your head spin. But at its core, the dialogue is about being able to define oneself, shedding limiting beliefs, being inclusive of all people, and transcending notions of how we 'should' act or who we 'ought' to love. We'll spend our time together looking at the wacky world of gender from the personal to the political and sharing tools for reframing gender in our families, communities, and beyond.

Shanya Luther is an advocate, author, coach, and facilitator. For more than ten years she has been studying, writing, speaking, and coaching about intimacy and sexuality. Her passion lies at the intersection between sexuality, spirituality, ecology, and social justice.
Sheya Grace Wind ♥ Honouring Desire ~ Dance Journey
Dancing Freedom joins us in a free form movement practice of embodied prayer and conscious play... we explore motion with intent thru an elemental alchemical music wave and then go into an inner dance (authentic movement process) with a partner. Learn new ways to ground, center and expand your self within a shared space of deep community aliveness. The practice is delicious... expect magic as we dance desire & discovery...

sheya grace wind is a visionary life artist and is passionately into beautifying reality and energising new/ next culture with the expressive arts. She is newly trained in dancing freedom.. loves it!! and is so grateful to share this gift with camp.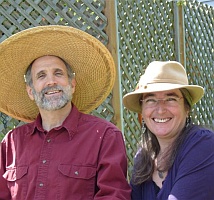 Paul Emmet & Anna Schuster ♥ Making Choices that Serve our Lives
There are times in our lives when we make decisions that that don't bring us the freedom, love, and joy that each of us deserves. In this workshop Paul and Anna will use the tools of Possibility Management to examine what gets in the way of decisions that are congruent with our hearts, our minds, and our life paths. Possibility Management enables people to deal with their emotions in a new way. It focuses on acknowledging the feelings we have, healing past hurts, and using our feelings (yes, even anger and fear) to enhance our lives.
Paul is currently teaching sex-offenders skills to avoid re-offending and to make positive changes in their lives. Since discovering Possibility Management it has become his main method for accomplishing this work. He taught full impact self defense classes with a focus on emotional healing for ten years. He is a third degree black belt in Aikido and has had 10 years of experience with peer-counseling. Paul has a broad view of the world and sees change occurring through a combination of personal work, community work, and political work. He has attended nine Summer Camps and he sees Summer Camp as a powerful tool for this change.
Anna grew up in Germany where she raised three children and was a musician and Dance Therapist. From 2006-2009 she lived in Tamera, a peace research community in Portugal where she learned about creating peace - for oneself, between genders, in community, and in the world. She is using her experience there, her dance therapy skills, and her training in Possibility Management to work with groups and individuals to make significant changes in their lives.
Anna and Paul met at Summer Camp West in 2008 and have been married since September 2010. Both are members of the organizing committee for Summer Camp Northwest where they lead the forum process for the community.
Reid Mihalko ♥ Humor, Wisdom & Sex Geekery
Sex and relationship expert, Reid Mihalko of ReidAboutSex.com will be bringing his unique mix of humor, wisdom and sex geekery to NFNC Summer Camp to deepen our collective sense of sexual self-confidence, relationship self-esteem and ability to heal our sexual shame by asking for what we want.

Reid's workshops have been attended by close to 30,000 individuals from myriad walks of life, orientations, relationship styles, countries and religions. Known for his charisma, wit and emphasis on integrity, Reid travels the country teaching, coaching, consulting and collaborating on fulfilling his mission: Create more self-esteem, self-confidence and sexual health for adults in and out of the bedroom.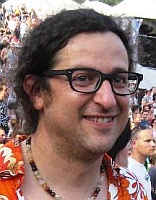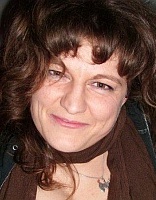 Konstantin Stavridis & Saskia Mieszkalski
♥ Experiments in Open Erotic Space
Open erotic spaces and pujas are an ancient and significant cultural treasure of mankind which has been lost over the centuries in large parts. How can we connect in our times, our erotic nature with an erotic culture? One of the most exciting aspects of our work, we do find in the experimental and intuitive creation of fearless, open, gender fluid spaces which allow us to free our "erotic self". For us, this is cultural and healing work at the same time. We try to find an artists aproach to connection, apart from ready concepts, ideologies or morals.
Konstantin and Saskia have spent many years in Berlin/Germany creating various experimental setups to learn more about the human erotic nature, the essence of the "erotic self". They have also presented at Zegg and other Centers around the world.
Laurence Cole ♥ Song Weaving & Ecstatic Community
Master Songweaver Laurence Cole returns again to show us how easily we build connection and restore enchantment in our daily lives when we simply join our voices in song. This year Laurence will be joined by Aimee Kelley Spencer and Aimee Ringle. Witness the magic of making passionate, joyous, powerfully beautiful music as we weave our voices into collective harmony, and our hearts into a unified field of Love.

Laurence lives at the Port Townsend EcoVillage, and is the founding director of Port Townsend Songlines community choir. He also has a massage practice, specializing in acupressure and shiatsu. He has practiced T'ai Chi for over forty years, and enjoys moving slowly, and participating in patient natural processes, particularly the making of compost.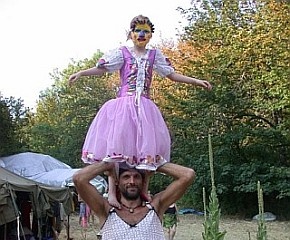 Children at Summer Camp
We welcome children at camp and ask that all our campers work with us to create a "Kids" Camp environment where young children and teens thrive. If you are so inclined, there will be ample opportunities to connect meaningfully and creatively with our young people this year as a Kids Dharma Angel. Let us know when you register if you are interested in helping!
Compassion Cadre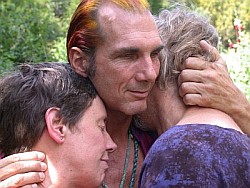 Summer Camp is a powerfully transformative experience for many people. Often we find our buttons get pushed, our self-limiting habits are upended, and our stories about who are and who we can be in the world are challenged. Our ideal is to create a community which offers compassion and support for all campers, especially those who are feeling disconnected, unheard, or simply overwhelmed by their camp experience. We also seek to offer a service opportunity to campers who have experience in counseling.
One of the ways we realize this goal of a mutually-supportive and mutually-empowering community is through the Compassion Cadre. The Cadre is composed of camper volunteers. Two designated Cadre volunteers are on duty every day to help meet camper needs for emotional and physical support and well-being by donating their time in one or more of the following areas: empathy and peer counseling, mediation, group process facilitation, and bodywork. The Compassion Cadre is a great way to plug into camp, and a great way to get support when you need it!
Other Camp Events
♥ 7 Minute Connections ♥
In this popular camp event, campers get an opportunity for several spontaneous "dates" of only 7 minutes duration. This event can promote higher levels of transparency, and the spontaneous nature often facilitates unexpected connections.
♥ Aphrodite's Temple ♥
Aphrodite's Temple is a place for campers to experience the dimensions of sacred sexuality and sexual healing. As in previous years, we'll convert the building on the upper part of the property into a sacred and safe play space for adults who wish to explore healing, intimate touch and the joys of sharing love & pleasure.
♥ Auction ♥
Expect to be amused and surprised by the variety of unusual items and services donated by fellow campers for bidding. Previous auctions have included such offerings as "1000 kisses" and "a morning serenade." Auction proceeds help to provide scholarships and improve future camps.
♥ Open Space - Open Sessions ♥
Join in as the entire camp explores Open Space principles to self-organize for three days of concurrent events, inspired by your own passions and interests. These Open Sessions events are an opportunity for campers to convene dialogue groups on topics they've been wanting to explore, or create group massages, or do a music jam together. If a group doesn't feel fulfilling, participants are encouraged to move to a new one, honoring their instincts and natural enthusiasm. Bring your ideas and inspiration!
♥ Cabaret Show ♥
Here's your chance to show us your special talent. An evening of family fun with music, poetry, singing, stories, dance, skits, and more. Created by all of us!
♥ ZEGG Forum ♥
The Forum is a group process developed at ZEGG to provide a stage to express your true motivations, deep feelings, ideas and emotions. The Forum helps facilitate transparency, sharing and clarifying unsolved situations of daily life, and it can be a catalyst for one's own personal growth. More info about ZEGG forum may be found here.