Camp 2013
Creating Conscious Community through Choice
This year we are continuing last year's program format—a reduced number of scheduled presenters, increased free time, and three days of Open Sessions (see Other Camp Events below). We believe this format gives campers more time to integrate the information they are receiving, and offers an opportunity to explore areas more closely aligned with their personal interests.
♥ ♥ ♥
Our 2013 Presenters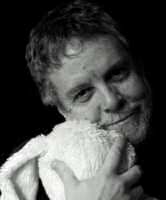 David Spinney ♥ HAI - Human Awareness Institute
David Spinney has been an intern with the Human Awareness Institute (HAI) for thirty years and a presenter for twelve. In addition to HAI, David brings a wealth of other possibilities into his workshops. He currently offers Brené Brown's Connections Curriculum workshops (see Journey to Wholeheartedness), he leads Symposia for the Pachamama Alliance and other activist organizations. He is also a Reiki Master, Alchemical Hypnotherapist and Life Coach, offering private sessions.
David's passions include building community, creating more love in the world, diving into deep interpersonal connection, and building intimacy for himself and for others.
---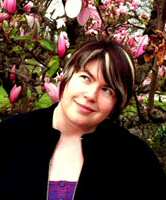 Oblio Stroyman ♥ Check Your Junk at the Door: Exploring and Expanding Concepts of Sex and Gender Identity.
"Is it a boy or a girl?" The implications of this question affect us from womb to tomb, determining how people interact with us, our perception of ourselves, and how we interact with others. In this interactive, experiential, playshop we will; identify ways concepts of sex and gender enhance and limit our personal and social experiences; expand our sex/gender menu options from binary to buffet; play with our fears, excitements, preferences and bias around sex and gender; become empowered to redefine our community constructions of gender in and outside of camp.
Oblio Z. Stroyman is a Queer identified relational therapist (LMFT) in the Eugene/Springfield community, and is the steward of "The Point" studio, an intimate venue that supports community through hosting events and skill share opportunities. She has always been passionate about community and social trends, focusing her undergraduate and graduate studies on family, gender and sexuality. She has been connected to the Network for a New Culture Community since 2000, participating as an organizer since 2010, helping to bring gender to the forefront of New Culture dialogs. In her professional work, she focuses on raising awareness in professional organizations regarding polyamory, gender, LGBTQI concerns and community through offering regular trainings. She has been intricately involved in the Eugene's ecstatic dance and contact improvisational dance community since 2008, and incorporates somatic healing modalities into her practice. Oblio strives to weave together strengths from the aforementioned communities into cohesive opportunities for increased intimacy, depth, learning and social change through group processes.
---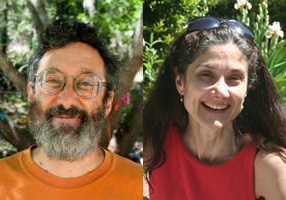 Paul Cienfuegos & Shana Deane ♥ Class, Money & Shame... Busted!
Turning our feelings, embarrassment and numbness into empowerment, possibility and action.
An experiential, interactive, shame-busting workshop on class and money. In small groups and large, we'll explore, unpack and liberate our deeper feelings and thoughts that can so often accompany these issues... Toward opening to more freedom of expression, different action and a fuller living.
Paul Cienfuegos is passionate and active about social change. He's led numerous trainings and workshops which help people come to terms with their difficult feelings as well as to do something about the current state of our world. He currently leads Community Rights PDX and hopes to end corporate rule in the U.S. Read more at paulcienfuegos.com.
Shana Deane is particularly interested in unveiling shame as a way toward more authentic living, feeling, freedom and joy. And she's especially interested in collaborative community living and loving—this will be her 9th summer camp since discovering Network for New Culture four years ago. (She travels from her hometown of New York City where she still resides.) For the past six years, Shana has been teaching and leading workshops and courses in compassionate communication and conflict resolution via the lens of Marshall Rosenberg's nonviolent communication model and Dominic Barter's Brazilian Restorative Circles, as well as being in private practice as a NY State mediator, counselor and end-of-life doula (the work she's most proud of). She also received some heavy-duty, cherished experience working in the heart of the New York City Occupy movement as a part of a team offering mediations, communication trainings and healing circles. Currently, she's delighted to be in the community of NYC's extraordinary and burgeoning Jewish renewal synagogue, Romemu, and is enjoying her 3rd year of running Romemu's Red Tent circle for "female identified" persons. And, after many years of deeply focused, extensive study, travels and experiments, Shana is exultant to announce that she's nearing one of her greatest aspirations... to be shameless.
---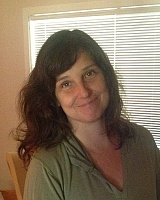 Sheya Grace Wind ♥ Honoring Desire Dance Journey
Dancing Freedom joins us in a free form movement practice of embodied prayer and conscious play... we explore motion with intent thru an elemental alchemical music wave and then go into an inner dance (authentic movement process) with a partner. Learn new ways to ground, center and expand your self within a shared space of deep community aliveness. The practice is delicious... expect magic as we dance desire & discovery...
sheya grace wind is a visionary life artist and is passionately into beautifying reality and energising new/next culture with the expressive arts. She is newly trained in dancing freedom.. loves it!! and is so grateful to share this gift with camp.
---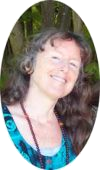 Community Reconnecting Puja
After days of pursuing our individual interests at camp, we'll reconnect in a heartfelt way.
Amara Karuna has been studying alternative healing since 1978. Amara taught Re-evaluation Co-counseling, a method of peer counseling, for over five years, and has been studying and practicing it since 1983. In 1989 she developed her own approach to peer counseling, called Wholistic Peer Support, integrating many ideas from RC with spiritual meditation practices, psychic healing, breathwork and body centered techniques. She has taught hundreds of people to do peer counseling, and currently leads several classes and support groups in Hawaii, including groups for sexual healing, parents and leaders. She began studying Tantra and Sacred Spot work, a method of sexual healing, on Maui in 2003, and has since studied six different methods of pelvic bodywork. She has been teaching Pelvic Healing Work for men and women, and leading Tantra Pujas since 2007. See http://amarakaruna.webs.com.
---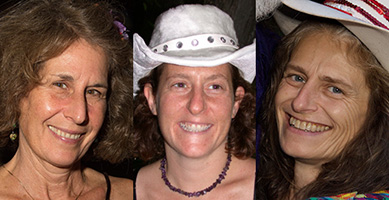 Your Camp! What Just Happened and What's Next?
What's the story of your summer camp? Where did it start and how is it ending - or is it? What gifts, skills, connections and discoveries, new or newly-honed, happened along the way? How are you different from when you arrived, and what do you want to take home home with you?
Abigail, Judy and Melanie lead us in a playful, interactive day of theater, games, art and more to collectively and individually reflect on our camp experiences, celebrate ourselves, and declare where we go from here.
Melanie J. Kundert is a Playback Theatre adept and teacher, founder of the Next Step Salon and Consummate Clownish Queen with years of training and experience in improvisation, creativity coaching, ARTrageous creativity camps, Dell Arte School for Physical Theatre, Rainbow of Desire, Theatre of the Oppressed and Life as Comedy. She has co-presented with Judy Dolmatch and Abigail Leeder at past NFNC camps with offerings such as Playback Theater and The Undercover Agents of the Love Revolution. Passionate for the power of self & collective artistic expression as a means for connection, understanding, purpose and celebration, Melanie returns with them this year, lending her spirit of "Yes, And You can't get it wrong!" for a fun day of play, purpose, passion and power.
Abigail Leeder is a drama therapist, playback practitioner and an undercover agent of the love revolution. Committed to social change through non-boring devices she serves as the Director of Sexual Violence Prevention and Education at the University of Oregon and as a staff in residence with the UO Center on Diversity and Community where she runs two social justice theatre troupes. Abigail has published articles on her work with incarcerated women using drama therapy and on theatre as a tool for personal growth and empowerment for women. She is a co-founding member of Emerald Valley Playback Theatre and a past NFNC (2007) presenter. She currently lives in Eugene, but can be sighted anywhere something extraordinary might be just about to happen.
Judy Dolmatch, MSW, LCSW, has been exploring the intersection of creativity, theatre, improvisation, and personal growth since 1975. She is a nationally certified psychodrama director; co-founded, taught, and performed with the Rogue Valley Playback Theatre and the Hamazons, an all women comedy troupe. She is currently a member of The Collective Mirror, a women's Playback Theatre in Ashland, OR. Judy has been active in the New Culture Community since 2001 and is a member of La'akea Permaculture Community in Hawaii. Her latest venture is originating "Improv and Daily Life," a class that applies improv skills to our walkaround lives.
---
OPEN SESSIONS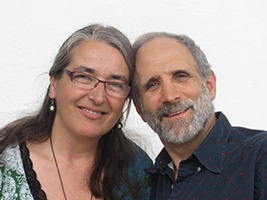 Paul Emmet Rogers & Anna Schuster ♥ Possibility Management: Learning to find fulfillment and joy
In this workshop Paul and Anna will focus on ways to see ourselves more clearly (including expressing what is deep within us). They will teach us valuable tools for moving in the direction that gives us more fulfillment as well as effective ways to connect with others. We'll practice using feelings in a new way so that all of our feelings can enhance our lives. There will be material for those new to this work, for those who have been to several Possibility Labs, and for everyone in between.
For more information you can check out Paul and Anna's website at http://nextculture-us.com/
Paul was drawn to Possibility Management because of its ability to empower people to transform their lives. He spent several years in his job at a prison, sharing these tools at with sex offenders. In that setting he was only able to use a small number of the tools of Possibility Management and he eventually chose to leave that job in order to focus on bringing all of the tools to a wider audience. Paul has taught full impact self defense classes with a focus on emotional healing, is a third degree black belt in Aikido, and has had 10 years of experience with peer-counseling. He has attended 13 NFNC Summer Camps and sees camp as a powerful setting for creating change.
Anna grew up in Germany where she raised three children and was a musician and Dance Therapist. From 2006-2009 she lived in Tamera, a peace research community in Portugal where she learned about creating peace - for oneself, between genders, in community, and in the world. She is using her experience there, her dance therapy skills, and her training in Possibility Management to work with groups and individuals to make significant changes in their lives.
Anna and Paul met at Summer Camp West in 2008 and have been married since September 2010. Both are members of the organizing committee for Summer Camp Northwest where they lead the forum process for the community.
---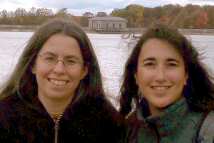 Sarah Taub & Debby Sugarman ♥ ZEGG Forum Intensive
For people who want to expand their skills in Forum facilitation and participation
Are you a trained or novice ZEGG Forum facilitator who wants a chance to refine your skills and build a supportive learning community of facilitators?
Are you a lover of Forum who would like to try your hand at facilitation?
Are you intrigued by Forum and want to learn more about it, regardless of whether you want to try facilitation?
Would you like to get involved with Forum teams at upcoming New Culture events?
ABOUT FORUM: ZEGG Forum (http://www.zegg-forum.org) is a deep and intimate process for communities. The aim is to reveal whatever is authentic, alive, and true. One person steps forward to reveal him or herself in words, movement, or sound; the group supports the self-revelation with compassionate attention, and provides feedback in the form of "mirrors." Trusted facilitators are the "midwives" of the process.
PURPOSE: The Forum Intensive is intended to deepen the understanding and practice of ZEGG Forum in our various communities. The goal is for experienced facilitators, facilitation newbies, and Forum enthusiasts to come together as a learning community where we improve our Forum skills and help each other to apply ZEGG Forum to the communities we care about, whether they be residential, non-residential, or other types of organizations.
SCHEDULE AND TOPICS: The Intensive will take place in three afternoon sessions on August 14, 15, and 16. The Intensive will involve basic exercises and concepts that build toward facilitation, exercises to promote leadership and facilitation skills, and supervised Forum facilitation. Though everyone will participate in the exercises, we do not expect that everyone in attendance will necessarily take a turn at facilitating Forum.
PARTICIPANTS: The Intensive is open to all Summer Campers, with a maximum of 30 participants. We welcome people who have facilitated Forum, those who have not yet facilitated but would like to try it out, and those who love Forum and prefer to participate rather than facilitate. If you're not certain whether the Intensive makes sense for you, drop us a line at forum@cfnc.us and we'll talk about it.
SARAH TAUB, Ph.D
Sarah is a cultural activist whose passion is creating events where people transform. She teaches the skills of peaceful, sustainable community, self-awareness, honesty, clear boundaries, and facilitates group processes of many sorts, including consensus decision-making, business meetings and retreats, ZEGG Forum, and conflict resolution sessions. Sarah co-founded the first cohousing community in Washington, DC, and for the past 11 years has lived at Chrysalis, a small urban intentional community in Arlington, VA whose mission is to support activists and healers (www.chrysalis-va.org). Since 2004, she has been a major organizer of Network for a New Culture's East Coast Summer Camp (www.cfnc.us) and other events aimed at creating a culture based on awareness, compassion, and freedom rather than on fear and judgment. In 2006, she left her tenured professorship in Cognitive Linguistics at Gallaudet University to focus full-time on events, community-building, and cultural change. Since 2011, she has been the financial and programs manager for Abrams Creek Center (www.abramscreekcenter.com), a retreat center and community in the mountains of West Virginia.
Sarah has been facilitating ZEGG Forum at New Culture events since 2004. She participated in and assisted at three Forum trainings with Teryani Riggs and has completed several Forum trainings with Ina Meyer-Stoll and Achim Ecker of ZEGG, including a 16-day facilitation training at Ganas Community in New York. She coordinated or co-coordinated the Forum team at New Culture Summer Camp West from 2008 to 2011, coordinated the Forum team at New Culture Summer Camp Central Oregon in 2011 and 2012, and has been on the Forum team at New Culture Summer Camp East since 2008. She has been teaching Forum facilitation with Debby Sugarman since 2011, and is deeply committed to Forum as a tool of large-group transparency and transformation.
DEBBY SUGARMAN
While working on environmental issues in her twenties, Debby realized that the issues she cared about were won or lost based on the strength or failure of human relationships and the effectiveness of interpersonal communication. Hoping to be part of more effective endeavors, Debby became a connoisseur of all forms of group and interpersonal communication. She became trained in mediation, studied various forms of meeting facilitation including most recently a 2 year class with Laird Schaub, and immersed herself in personal growth work and experiments in group dynamics.
Debby has been facilitating Heart of Now personal growth weekend workshops and evenings in the DC area since 2006. She studied Forum facilitation with Teryani Riggs and completed a 16 day intensive ZEGG Forum training with Ina Meyer-Stoll and Achim Ecker of ZEGG Community. Along with Sarah Taub, Debby developed a training for ZEGG Forum facilitators focused on breaking down the facilitation process into its different aspects and creating exercises for participants to practice new skills.
Debby is currently experimenting with bringing a new culture into her workplace, a 30-person nonprofit retail store. She adapted a version of ZEGG Forum and has led a monthly Forum at work for the past 2 years. She is also teaching a monthly leadership training workshop for new managers.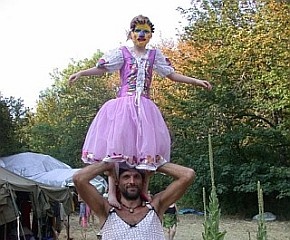 Children at Summer Camp
We welcome children at camp and ask that all our campers work with us to create a "Kids" Camp environment where young children and teens thrive. If you are so inclined, there will be ample opportunities to connect meaningfully and creatively with our young people this year as a Kids Dharma Angel. Let us know when you register if you are interested in helping!
Compassion Cadre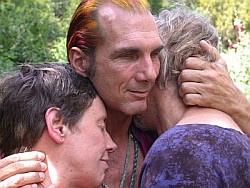 Summer Camp is a powerfully transformative experience for many people. Often we find our buttons get pushed, our self-limiting habits are upended, and our stories about who are and who we can be in the world are challenged. Our ideal is to create a community which offers compassion and support for all campers, especially those who are feeling disconnected, unheard, or simply overwhelmed by their camp experience. We also seek to offer a service opportunity to campers who have experience in counseling.
One of the ways we realize this goal of a mutually-supportive and mutually-empowering community is through the Compassion Cadre. The Cadre is composed of camper volunteers. Two designated Cadre volunteers are on duty every day to help meet camper needs for emotional and physical support and well-being by donating their time in one or more of the following areas: empathy and peer counseling, mediation, group process facilitation, and bodywork. The Compassion Cadre is a great way to plug into camp, and a great way to get support when you need it!
Other Camp Events
♥ 7 Minute Connections ♥
In this popular camp event, campers get an opportunity for several spontaneous "dates" of only 7 minutes duration. This event can promote higher levels of transparency, and the spontaneous nature often facilitates unexpected connections.
♥ Aphrodite's Temple ♥
Aphrodite's Temple is a place for campers to experience the dimensions of sacred sexuality and sexual healing. As in previous years, we'll convert the building on the upper part of the property into a sacred and safe play space for adults who wish to explore healing, intimate touch and the joys of sharing love & pleasure.
♥ Auction ♥
Expect to be amused and surprised by the variety of unusual items and services donated by fellow campers for bidding. Previous auctions have included such offerings as "1000 kisses" and "a morning serenade." Auction proceeds help to provide scholarships and improve future camps.
♥ Open Space - Open Sessions ♥
Join in as the entire camp explores Open Space principles to self-organize for three days of concurrent events, inspired by your own passions and interests. These Open Sessions events are an opportunity for campers to convene dialogue groups on topics they've been wanting to explore, or create group massages, or do a music jam together. If a group doesn't feel fulfilling, participants are encouraged to move to a new one, honoring their instincts and natural enthusiasm. Bring your ideas and inspiration!
♥ Cabaret Show ♥
Here's your chance to show us your special talent. An evening of family fun with music, poetry, singing, stories, dance, skits, and more. Created by all of us!
♥ ZEGG Forum ♥
The Forum is a group process developed at ZEGG to provide a stage to express your true motivations, deep feelings, ideas and emotions. The Forum helps facilitate transparency, sharing and clarifying unsolved situations of daily life, and it can be a catalyst for one's own personal growth. More info about ZEGG forum may be found here.