Summer Camp West 2012 is now Full!
If you have been in contact with us and have questions about your registration
status please contact the registrar at sc12w@nfnc.org or 800-624-8445.

It's official! Our friends from Summer Camp East are once again organizing a second New Culture Summer Camp on the West coast, to be held August 17-26, 2012, near Eugene Oregon. Check out the website here.
Living on the East coast? We encourage you to check out
our sister camp held about 3 hours west of the Baltimore and Washington DC area, Summer Camp East.
New Culture Institute Presents the 18th Annual
Network For a New Culture 2012 Summer Camp West
Friday August 3rd through Sunday August 12th

Embark on a Journey of Self-Discovery,
Transformation, and Communion with Nature

NFNC Summer Camp provides extended experiences in building a sustainable, violence-free culture through exploring intimacy, personal growth, transparency, radical honesty, equality, compassion, sexual freedom, and the power of community.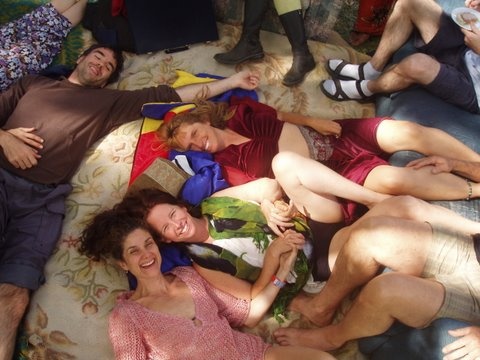 Come! Play with us in the forest paradise of Southern Oregon! Enjoy ten days of camping, connecting, and community building that will radically change the way you view the world! We feature a broad selection of experiential workshops designed to facilitate self discovery, deep personal transformation, emotional transparency, honest communication, and greater intimacy in our lives. The schedule is arranged so that most participants can have a full camp experience and yet take off only one week from work.
For the price, there are few events on the planet which offer the depth and quality of experience of our two Summer Camps. We are deeply committed to co-creating a New Culture, and these events are our primary vehicle for doing so.
In this year's program we will "Discover and Transform" our identities with Shanya (Torch) Luther's "Expanding Our Understanding of Gender, Inside and Out." We will explore conscious body connection with self and others through Julia Lohman's Somatics and Body Awarenss workshop. Laurence Cole will continue the mind-body-spirit-nature connection with an evening of SongWeaving, and an afternoon of crafting songs personal to campers in the moment. Paul Emmet and Anna Schuster will offer us the tools of "Possibility Management" to examine and shift the ways that toxic shame prevents us from living the life we deserve. Reid Mihalko joins us for the first time this year bringing humor, wisdom and sex geekery intended to increase sexual self-esteem and transform sexual shame. Also joining us this year for the first time are Konstantin Stavridis & Saskia Mieszkalski, offering cultural healing work through "Experiments in Open Erotic Space" and gender fluid Pujas.
We will be joined by many of our campers from the past who offer their facilitation talents including David Spinney and Fred Burks. In an effort to showcase the rich diversity of skills and expertise present in our campers, we will continue to sponsor Open Sessions, a space in which campers can sign up to facilitate/attend a wide variety of programs. And of course we are offering the usual dances, celebrations, gender circles, fun and games, cuddle puddles, river swims, an ongoing ZEGG-style Forum, and time to simply relax into the natural beauty surrounding camp.
If you are new to Summer Camp you may find it helpful to read the article, New Culture Perspectives, found here.
Mission Statement
Summer Camp is co-creating the transformation of our Culture into Universal Love in the deepest sense. By Universal Love we mean deep intimacy, transparency, honesty, spirituality, genuine equality, compassion, and sexual freedom all through the context of community.
Would you like to be one of our future Speakers?
For more information:
web: www.nfnc.org/scwest
email: sc12w@nfnc.org
or call: 800-624-8445